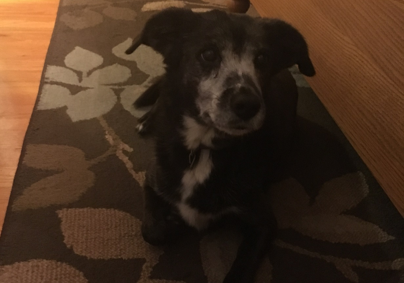 This is a danger lurking in our house every time the lights are off. The danger's name is . . . Shelby, our sweet little dog. You see, our dog has dark fur and likes to lay on dark carpets. That makes her well camouflaged in the daytime. In the dark she is all but invisible. I can't tell you how many times I have stepped on or stumbled over this dog! Someone says "oops! Sorry Shelby" at least twice a week. She never barks or bites and somehow is still a hazard to public safety. There are, however, worse dangers out there than invisidog. Dangers that make it important to remain in the light. "You are all sons of the light and sons of the day. We do not belong to the night or to the darkness" (1 Thessalonians 5:5).
Can you see what lies ahead of you? I make no claim to prophesy but I do know one thing that awaits me. And you. The One who can see the future tells us a common destiny awaits us all. He says, "man is destined to die once, and after that to face judgment" (Hebrews 9:27). In the darkness visibility is low. While walking in spiritual darkness that day, the day of the Lord, fades from view. It is not far away! Those in the light see this day clearly and they walk toward it confidently. They don't get tripped up by obstacles along the way, like getting in petty feuds over temporary things. "Whoever loves his brother lives in the light, and there is nothing in him to make him stumble" (1 John 2:10).
Brothers and sisters, I encourage you to walk in the light. Be wise in the way you live, be spiritually minded, so that you can see where you are going. The greatest danger of the darkness isn't a dog or a thief. It is being surprised by the day of the Lord and being left out of the kingdom. There is no darkness there. "The city does not need the sun or the moon to shine on it, for the glory of God gives it light, and the Lamb is its lamp. The nations will walk by its light" (Revelation 21:23-24). Live in the light now and live in the light forever.