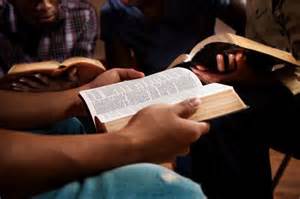 In addition to our regular Bible Classes that meet on Sunday mornings and Wednesday evenings, several other Bible study groups meet throughout the week. Some meet in members' homes and others meet at the church building. Most groups are multi-generational, an intentional mix that promotes interaction and understanding among a diverse range of ages . The average group will have about 6-10 members.
These Bible studies, which last between an hour to an hour and a half, are for anyone who wants to learn more about the Bible and God's plan for our lives. They are especially useful for seekers and for new Christians that are interested in growing and maturing in their knowledge of the Bible.
Another purpose for these small group Bible Studies is to provide opportunities for people to build deep, meaningful relationships with others who are journeying in Christ. Sometimes, because of the size of our congregation, it is difficult to connect with one another. Small group Bible Studies make it easier for visitors and new Christians alike to assimilate into the congregation and find opportunities to grow and serve.
Call the church office at 313-928-5810 to find out the dates, times and locations for the Bible studies that are currently meeting.  We encourage you to join us!