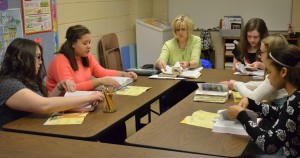 "Train up a child in the way he should go,
 And when he is old he will not depart from it."   Proverbs 22:6
Our Teen Bible classes are designed to increase the Bible knowledge of each individual student, promote  Spiritual growth, and teach the plan of salvation. Our teachers use a Scripture based curriculum and the Bible to present lessons about Bible people and lessons that students can relate to. Our youth program begins at a young age to teach about God. As our students mature, so does the level of learning about God and His plan of salvation. Further in the teen years, our goal is to equip our youth with tools needed to become a Christian and live in a Christ-like way. Through the study of the Old and New Testament, students will develop and grow in their knowledge of God and His Word.
We encourage each teen to be a part of our teen Bible classes, to study and be challenged to grow in knowing God, loving Him through Christ and to develop a stronger faith.