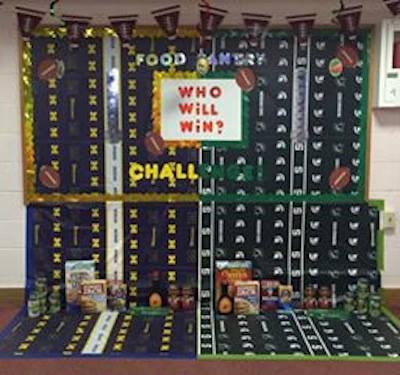 Not all rivalries take place on the football field. This year, we want to have a little fun with the UM vs MSU rivalry and restock our food pantry to help those in need this winter. Here's how it works: in the back of the auditorium you will see a display. One side represents the Spartans and the other the Wolverines. You help your team win the Food Pantry Challenge by purchasing non- perishable food products and putting them on the side you want to win. It's that simple. Each item counts as one point. Every week, there will be an 'item of the week' which is worth two points.
The Michigan/Michigan State game is on October 29th, so the last day of the challenge will be Wednesday, Oct 26th.
On Sunday, October 30th, we will have a soup/sandwich fellowship. Whichever team won the Food Pantry Challenge by bringing in the most items will be the decorations for the potluck. So, even if your team loses the Saturday game, you can still win the challenge and having bragging rights for the dinner! This is meant to be fun, so please remember to be nice and enjoy the challenge!!!! We will have a list of items that would be great to bring in.