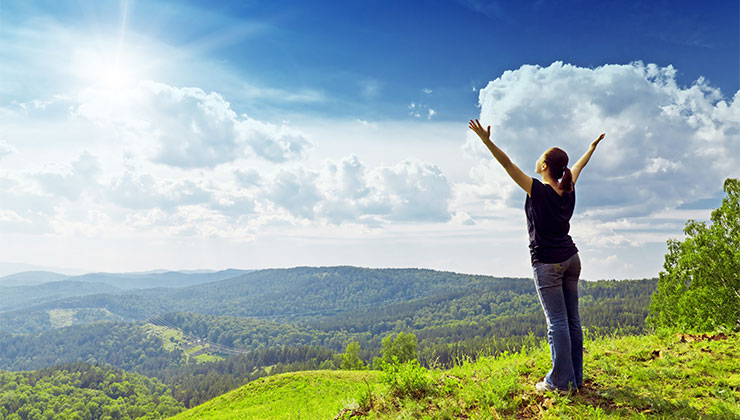 Hope is a critical part of our lives. I don't see how we can remain positive people without it. To have joy through trials we must believe that things can be better. And that belief does not always have to seem reasonable to those around us. Perhaps there is not a single piece of visible evidence that says better days are ahead. Perhaps everything that your eyes see tells you that there is no way out. Your bills tell you that you will never escape financial bondage. Your doctor tells you that you will always be in pain. Someone you love leaves a note that says they never want to talk to you again. You may think in all this that the way to make things better does not exist. But I want you to know that this has never been a problem for God before. He a God who "calls things that are not as though they were" (Romans 4:17).
Christian people have a great advantage over those who do not have faith. We do not have to see HOW things will get better to know that they will. In fact, our hard times are a great opportunity to share our faith. Our hope and joy will seem unreasonable if our situation is grim. People may ask, "how can you still have joy? I can't see any reason for a smile on your face." This is a great chance to explain that you serve a God that can create something out of nothing! There once was no such thing as a star. But then "He also made the stars" (Genesis 1:16). Easy as that, just a word from God and we go from no stars to stars. There may be no way for your situation to improve. Every fact says that it won't. But if you're a Christian that doesn't even matter. God can create a way out of thin air.
We ought to live by faith and not by sight. God changes everything. If you are serving Him then there is nothing to fear. And you should never fall to despair. I struggle to understand how those who deny God make it through the day, but with God there is always hope. Always. Even if you can't see it. Even if the facts say it can't be done. The facts said the wall of Jericho would not fall, that Daniel would be eaten by lions, and that Jesus would remain in the grave. Always have hope because impossible things are no problem for God.