On-going Benevolent Opportunities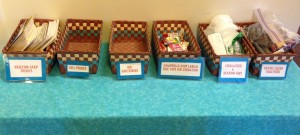 You may have noticed the small table in the vestibule that serves as our 'Collection Center' for several items that are collected on an on-going basis. Please start saving these items (and ask your friends and neighbors to do the same!)  If you are aware of other items that we can collect to help others, please let us know.
Labels and Box Tops for Education Schools collect box tops, labels, etc. to redeem for supplies and materials needed in the classroom. Be sure to check the packing on products you use! The labels and box tops collected at Lincoln Park are sent to the Shults-Lewis Children's Home.
Cell Phones The cell phones collected at Lincoln Park are sent to a company that refurbishes them to be distributed as 'emergency use' phones that are distributed to women at domestic abuse shelters across the US.   Some are also given to members of the military through the Cell Phones for Soldiers organization. So, check around your house and office to see how many of these unused devices you have laying around and consider donating them to a good cause.
Personal Toiletries (travel sized) We collect unopened travel sized toiletries for a variety of uses. Some are donated to ChristNet, a local shelter that serves the homeless in the Downriver area. Some are used by the Helping Hands ladies to be packed into handmade bags that are donated to domestic abuse shelters.
Eyeglasses & Hearing Aids Used eyeglasses and hearing aids are donated to the local Lion's Club to be repaired, sorted and distributed through medical missions in developing countries. From time to time, we also collect new reading glasses that are donated to the Send the Light Mission for distribution in India.
Ink Cartridges All types of computer ink cartridges are sent to a company that refills and recycles them. They send us a check for the cartridges they are able to use. The money goes into the church treasury.
Used Greeting Cards – The fronts of the cards are sent to St. Jude's Ranch for Children (in Nevada) to be made into new cards (and sold) by the children who live there. Proceeds from the sale of the cards help fund programs for the children at the ranch.