SERVING GOD AND THE COMMUNITY SINCE 1925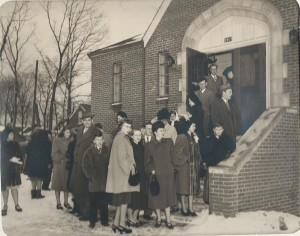 1925-2013
 The Lincoln Park Church of Christ began in the fall of 1925 as a discussion between two men, S.J. Mankin and Hershel Gillenwater, while they rode a bus home from worship services at the Vinewood Church of Christ in Detroit. They met and planned throughout the fall and soon word spread about the new congregation in Lincoln Park. On December 1, 1925, the first meeting of the Lincoln Park Church of Christ was held at Bro. Mankin's house located at 1021 Mayflower. The attendance that day consisted of 14 adults and 2 children. Hugh Hemingway from the Vinewood congregation preached the first sermon. The charter members were Aaron Bone, Mr. & Mrs. Z Harendean, Russell Harendean, Mr. & Mrs. H. Gillenwater, Mr. & Mrs. S.J. Mankin, Jewel Lindquist and her daughters Faye and Marie, Guy Lawson, Agnes McLain, Leslie Spear and Mabel Hardison.
By spring, the congregation had outgrown the space and was able to rent a room in Raupp School located at the corner of Cicotte and Ethel streets. The congregation continued to grow and soon moved into the school's gymnasium. Before long, the members began to talk about finding a building of their own. Using what little money was in the treasury and money loaned by church members, they purchased a lot at the corner of Chandler and Progress and began to work on the building, doing as much of the work themselves as possible in order to keep the costs down. There was one room on the first floor where the church met and five rooms on the second floor where he preacher and his family lived. The first service in the new building was planned for December 1926, just one year after the first meeting in Bro. Mankin's house.   It was so well attended that it was necessary to hold three services that day! S.M. Jones of Beamsville, Ontario was the speaker. For the next year, various men of the congregation took turns preaching including: C.S. Black, Claude French, Guy Lawson, Charles Lumley, Ray & Jay Chamberlain.
In November 1928, A.B. Gunter from Pearl, Mississippi became Lincoln Park Church of Christ's first full time preacher. He served until 1930. Since then, 13 other men have served the congregation as full time preachers. They are:
J.W. Shepherd 1930- 1933.
W. Claytus Anderson 1935-1938
Roy Akers 1939 – 1941
Elza Huffard 1942-1944
Doyle Earwood 1944-1947
Vestal Chafin 1948
Roy Akers 1949-1953
William O. Mitchell 1953-1955
K.D. Pittman 1956 -1957
Ben Morton 1957 – 1963
Everett Alexander 1963 -1973
Larry Grizzell 1974 – 1976
Ron White 1977 – 2003
Russ Bone 2004 – Present
By 1940, the congregation was growing so fast that a building committee was formed to begin looking for a new site. In 1945, three lots were purchased at the corner of Fort Street and Progress – the location of the current church building. Ground was broken for the basement in July of 1947. The Chandler building was sold and the church began meeting in the Goodell School gymnasium while waiting for the basement to be completed. The first worship service was held in the new basement in February 1948. 50 families were in attendance. By 1952 the auditorium was completed and by that time, attendance had increased to the point where 2 morning services were necessary. In 1961 extensive remodeling was done to the building, adding classrooms, restrooms, offices and reconfiguring the front entrance. More remodeling was done in the late 60's to add a balcony for more classroom space and again in the mid 80's to add the foyer and elevator to make the building handicapped accessible.
The first elders were appointed in 1943. They were Paul Gunter and Oliver Buchanan. Throughout the years other men who have served as elders include: Cecil Blackwell, Fred Conger, James H.(Bud) Gunter, Bob Benham, Chuck Pulley, Jack Stowe, Terry Theisen, Ken Middleton, Warren Whitelaw, Benny Morton, and Ron White. Our current elders are: Russ Bone, Randy Coss, Chuck Middleton and Louis Montgomery.
Many men have served the congregation as deacons including: Marvin Hyde, Carl Bain, Clayton Gilmer, Wallace Wharton, Joseph Allen, James Usrey, Holland Capron, Cecil Blackwell, Vestal Chafin, Frank Baker, John Chapo, Glenn Stinson, Travis Holcombe, Richard Miller, Fred Nicks, Don Sanders, Jack Stowe, Dave Lobb, Chuck Pulley, Cosper Ruphard, Chuck Middleton, Greg Pugh, Randy Coss, Jim Ingram, James Isenberg, Louis Montgomery, Garry Qualls, Bill Castleman, Bill Brooks, Bill Shelton, Ron French, and Roger Bousho. Deacons now serving are Randy Alt, Steve Lance, Gilbert Maldonado, Chris Middleton, Deron Smith, Ed Stewart, and Patrick Van Horn.
From the early years until the present, the Lincoln Park Church of Christ has been mission minded, both locally and abroad. In 1944, the Lincoln Park congregation established the Wyandotte Church of Christ which has since moved to Southgate and is now known as the Gateway Church of Christ.
The Lincoln Park congregation played a large role in establishing the Churches of Christ in the Bahamas by providing support to William Miller from the 1950's until the 1980's. He preached for the Highbury Park church in Nassau and helped establish numerous congregations in the Caribbean before passing away in 2012. David Caskey, also known as the "Flying Preacher," has been overseeing this work since William's death.
Long term assistance was also provided to Gordon French as he preached for the church in Grayling and other northern Michigan congregations. Over the years, the church has also supported Potters Orphans Home for Boys, Great Lakes Home for the Aged, Herald of Truth, Robin Stephens in Korea, Carol Speirs in Haiti, Isaac Banda in Malawi, The Church of Christ Care Center, Michigan Christian College, Shults-Lewis Children's Home, Luckett Christian Academy, and"To Russia with Love" .
Some of our current mission points are:    the Oscoda Church of Christ, David Grant in Escanaba, MI, Daniel Frerot in Strasburg, France, Dale DuVerney in Rogers City, MI, Luc Bouquet in Haiti, David Caskey in the Bahamas, Javier Cuerezma in Mexicantown – SW Detroit, Send the Light in India, Wisam Al-Ithawi in metro Detroit, and Bibles for China.